About the references on this episode:
- In the train scene, "STUDIO88" and "DAST is at Kichojoji" are seen as ads, They are names of the anime studios which made the episode, Kichojoji being a place in Tokyo where said studio was located.
- In the park scene, the trenchcoat dude (Iwashimizu Hiroshi) is inspired both by a character (Iwashimizu Kentarou) of the Makoto Kobayashi manga "1-2 no Sanchirou" (the general looks and the trenchcoat) and by a character (Iwashimizu Hiroshi) of the Takumi Nagayasu manga "Ai to Makoto" (the glasses and the full name).
- The policeman appearing at the end of the cafe scene (also seen afterwards) looks a bit like the protagonist (Ryotsu Kankichi) of the "Kochikame" manga and anime.
- In the TV news scene, the "expert" (Takeda Kinpachi) is inspired by the main character (Sakamoto Kinpachi) of the drama "3-nen B-gumi Kinpachi-sensei" and its actor name (Takeda Tetsuya). The female newcaster (Yonezaki Miyuki) has the same name as one character of the drama "Papa wa Newscaster".
Unfortunatly I found nothing about Tanabe Tsurukame (田辺鶴亀), the name of the serial raper given by the news channel. Is there any link with Kochikame? In any case I'll update the entry if I find more stuff.
Originally posted in Nyaa, on 2019-05-19 23:47
*******************************************************************************************************
The last part of the mangaka series, from the deranged mind of Moriyama Tou, creator of episodes (5th Period Venus and After School XXX) where perversion was the norm. Being made on times when politicians and medias in Japan were campaining against "immoral" material in manga or anime products, this episode pushes the immorality to the maximum.
Imagine you would find a six-shot revolver randomly on a park, and have the freedom to use it as you like, what would you do with this new power? Our hero chooses sexual gratification and starts a seek-and-rape journey. There are many references to real people or manga characters or the time, though there is probably more than I could find, I'll keep the details for the blog. It also makes fun about authorities like police and self-defense groups, medias, and social norms in general.
Many questions arise while watching the scenes. The main one being, quoting the tramp in the last scene, "Why?". The episode title itself seems to be an answer, don't you think so? Another one is (Dirty Harry joke inside), did our raper hero shoot all his bullets, or did he keep one for the end? Take note there is a novel version which goes further than the anime (from guessing the moonrunes).
Coming next for #lamonae@irc.rizon.net, a new batch release to gather all the work done since episode 13 (+ some bonus) before starting the Ami Sorekara series towards the Summer (of Love?).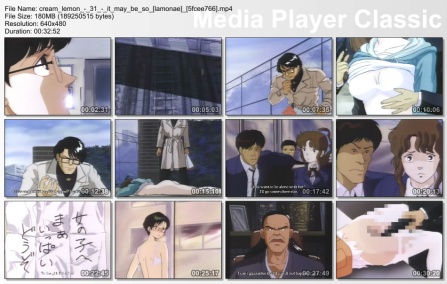 *******************************************************************************************************
Torrent: https://sukebei.nyaa.si/view/272500...
Direct Download: http://www.mediafire.com/file/zia7e...